Celebration for Children goes outside!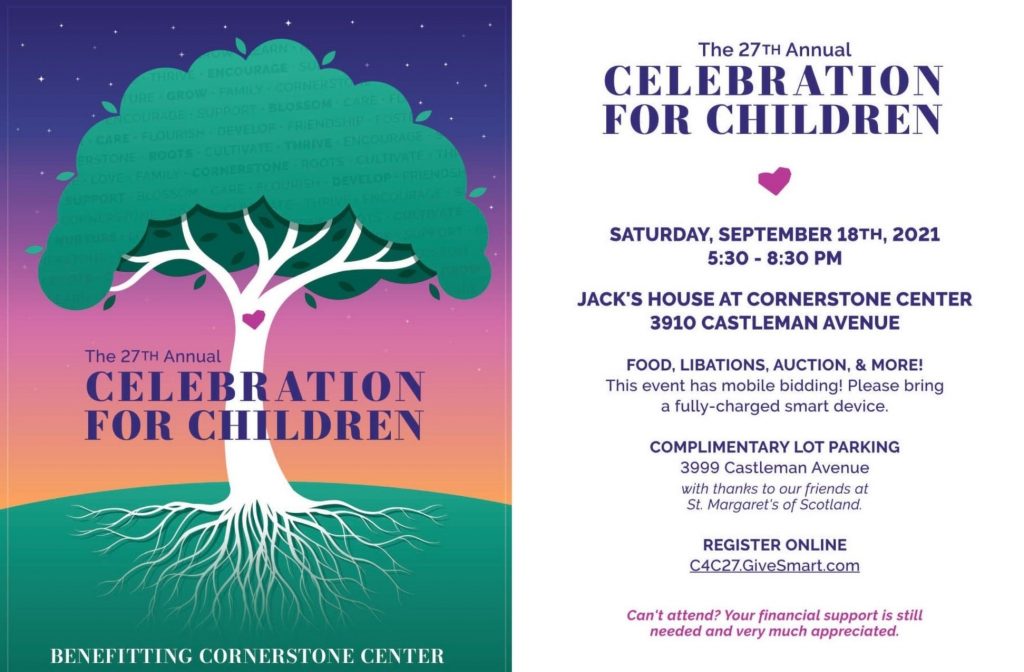 Join us for Cornerstone's biggest event of the year
On Saturday, September 18, Cornerstone Center for Early Learning will host our 27th annual Celebration for Children fundraising evening. Guests (adults only) will check in outside Jack's House before enjoying a twilight stroll through our historic Shaw-neighborhood campus from 5:30-8:30 p.m. Emcee Tom "Papa" Ray, Vintage Vinyl proprietor and soul selector at KDHX, will lead a live auction and fund-a-need. As part of the experience, we are planning elements that bring together local food, creative libations, musical entertainment, and an immersive look at the developmental milestones of Cornerstone. (Guests will also have the option to participate virtually if they prefer.) 
Our theme this year is roots: After over 50 years of service to children and families here in St. Louis, our roots in this community run deep and our branches reach for the stars! Funds raised will provide direct impact and immediate benefit for St. Louis-area children and families.
With safety in mind:
1 – You can also attend Celebration for Children virtually! Reserve your free virtual ticket at the button above.
2 – Our in-person event will be outdoors. We ask that attendees, especially anyone who is unvaccinated, maintain social distance and wear a mask.
Why should I participate?
By participating, you are helping at-risk infants, toddlers and preschool-age children receive the strong start they need to enter kindergarten on track with their peers.
You are helping Cornerstone provide parents with the support to better their financial situation by attending school or work with the knowledge that their children are safe and cared for.
Over half of Cornerstone families have incomes under $30,000 per year. Celebration for Children supports Cornerstone's work providing full-service, full-day, year-round early-childhood care and education including meals, supplies, developmental therapies, health screenings and more.
How can I help?
Share Your TIME
Join our planning committee and be a part of the team that makes it all happen. Click here to receive an invitation to our next meeting.
Spread the word among family and friends. Let them know that Cornerstone would love their help!
Share Your TALENT
Do people rave about your cooking? Donate a private cooking lesson to our auction. Enjoy painting or drawing? Submit a work of art. Run your own farm? Offer up a tour. If you have a special skill, we'd appreciate your sharing it with us to help raise vital funds as an item in our auction. Click here to submit your item through our online form.
Share Your TREASURE
And last but not least, be a part of the event on September 18. Purchase raffle tickets, bid on auction items, and contribute to our Fund-a-Need on our virtual platform, and/or attend the in-person event! Click here to reserve your spot.
Event Contact:
Dani Smith, Director of Development
(636) 484-2500
dsmith@cornerstonecenterstl.org