Celebration for Children, Successfully Reimagined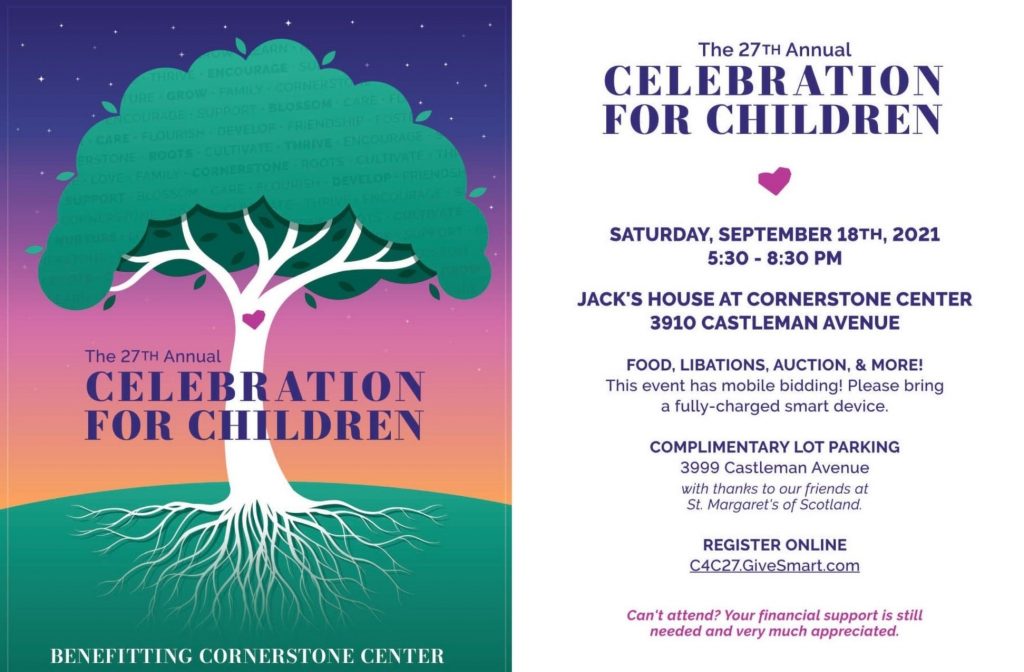 On September 18, 2021, our 27th Annual Celebration for Children fundraiser was transformed into a guided Sip, Snack and Stroll. Guests were greeted with a glass of bubbly at check-in and enjoyed a complimentary photo booth, silent auction and raffle shopping before embarking on a 5-stop guided tour across Cornerstone's campus. At each stop, attendees received a food and libation pairing while participating in immersive experiences exemplifying the developmental milestones of Cornerstone children. The night culminated with a glow-in-the-dark celebration at Cornerstone's newly certified outdoor classroom featuring a whimsical dessert, a Cornerstone family's story, paddle raise, live auction, and more. Thanks to the generosity of supporters like you, our reimagined Celebration raised over $190,000!
Celebration's success would not have been possible without the tireless work and creativity of our planning committee led by Robin Baima and Tammy Schmaeng, and including Chris Brown, Maggie Gallagher, Tricia Gooden, Claryssa Haugrud, Felisa Javier-Holt, Kam Johnson, Kate Ledden, Kate Maxson, Anne May, Marsha McGuire, Kathy & Stephen Odenwald, Carmin Pruitt, and Sally Torbitzky. We're additionally thankful to our emcee, Tom "Papa" Ray and acapella group Block Party, as well as our station hosts, group guides, volunteers, and guests! Last but not least, thank you to our sponsors whose partnership will have an invaluable impact for Cornerstone children.

Stay tuned for details on our 28th Annual Celebration for Children, coming soon.
Sponsors
Future Builder:
Behlmann Automotive
Mentors:
Carrollton Bank
Centene Charitable Foundation
Steve & Leslie Goldberg
Advocates:
Beis Plumbing
The Daniel and Henry Company
David & Linda Smith
Joseph Epplin & Margaret Zapf
Classroom Sponsors:
Ameren Missouri
ARCO Business Services
Darcy Smith
Eric & Amy Holland
Patty & Steve Ackerman
Raymond & Laurie Van de Riet
Scott Thomas & Dani Smith
TD4 Electrical
Together Credit Union
US Bank
Wood Financial Partners
Friends: Anthony Irace • Busey Bank • Carmin & Adolph Pruitt • Clarence Diedriech • Christner Architects • Commercial Bank • Dale Lewis & Julie Gammack • Dr. Myron & Mrs. Randee Jacobs • GI Construction • Jim Sramek • McDonald's • Metro East Industries Inc • PGAV Destinations • Production Products • Reichardt Torbitzky LLC • Sal & Jan Ruvolo • SmithAmundsen LLC & Brian Wacker • Tammy & Andrew Schmaeng • West End Chiropractic & Rehabilitation Center • World Wide Technology
In-Kind Sponsors:
Alpha Brewing Company
Azar Printing
Fast Signs
Jess Solomon
John D. McGurk's
2nd Shift Brewing
4 Hands Brewing Company
Event Contact:
Dani Smith, Director of Development
(636) 484-2500
dsmith@cornerstonecenterstl.org