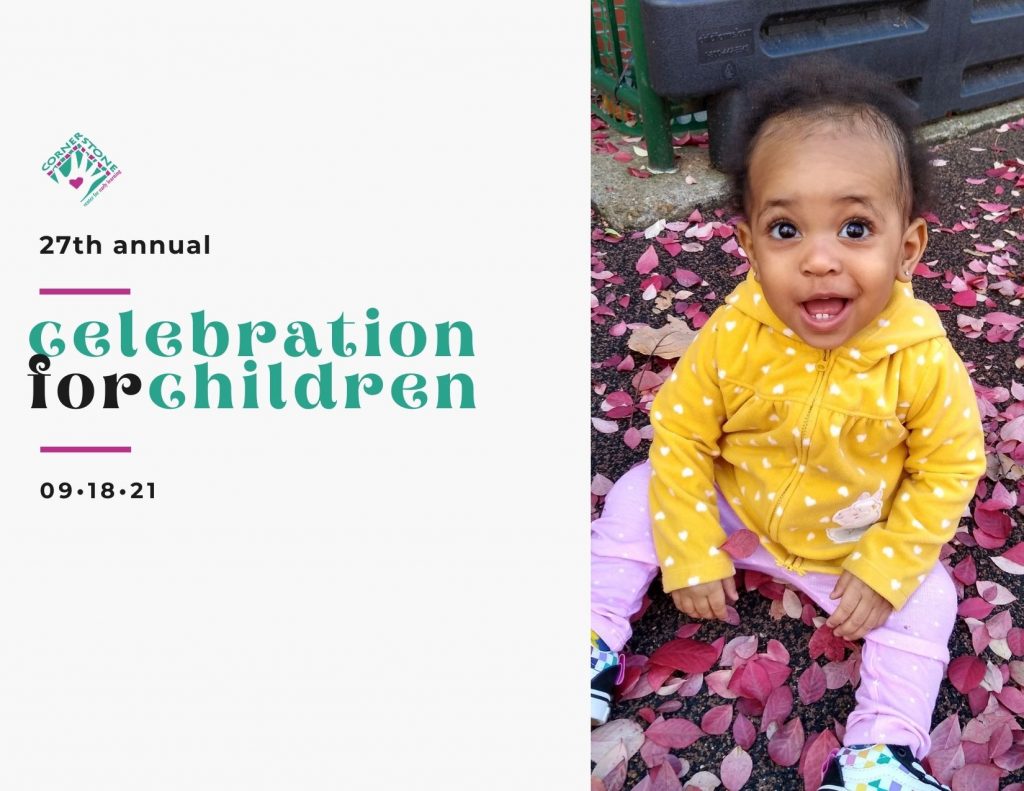 What is Celebration for Children?
Celebration for Children is Cornerstone Center for Early Learning's largest fundraising event each year. Normally a gala, Celebration for Children 2021 will be adapted into a virtual and direct mail campaign culminating in a hybrid virtual program and an outdoor party on Cornerstone's campus on Saturday, September 18. (Guests will have the option of whether they'd like to attend virtually or in-person.) Funds raised will provide direct impact and immediate benefit for St. Louis-area children and families.
Why should I participate?
Your participation in Celebration for Children helps parents in need to improve their economic situation by working or going to school and provides at-risk children with the strong start necessary to enter kindergarten on track with their peers.
Over half of Cornerstone families have incomes under $30,000 per year. Celebration for Children supports Cornerstone's work providing full-service, full-day, year-round early-childhood care and education including meals, supplies, developmental therapies, health screenings and more.
How can I help?
Share Your TIME
Save the date for September 18 to join us for our in-person event finale. Sign up here to stay informed and receive event updates as they happen.
Join our planning committee and be a part of the team that makes it all happen. Click here to receive an invitation to our next meeting.
Spread the word among family and friends. Let them know that Cornerstone would love their help!
Share Your TALENT
Do people rave about your cooking? Donate a private cooking lesson to our auction. Enjoy painting or drawing? Submit a work of art. Run your own farm? Offer up a tour. If you have a special skill, we'd appreciate your sharing it with us to help raise vital funds as an item in our auction. Click here to submit your item through our online form.
Share Your TREASURE
And last but not least, be a part of the event on September 18. Purchase raffle tickets, bid on auction items, and contribute to our Fund-a-Need on our virtual platform, and/or attend the in-person event! Sign up here to receive event updates when these opportunities become available, and stay tuned for additional details coming soon.
Event Contact:
Dani Smith, Director of Development
(636) 484-2500
dsmith@cornerstonecenterstl.org
A very special thank you to our 26th Annual Celebration for Children sponsors:
CHECK-IN SPONSOR ($500)
PRINT SPONSOR
BAR SPONSOR
Urban Chestnut Brewing Company
GRAPHIC DESIGN SPONSOR
Jess Solomon
ADDITIONAL THANKS TO
Amy Poole-Yaeger and Robert Yaeger
Bill and Vikki Belgeri
C.R.E.W. Construction, Inc.
Cathy Beck/Total Finance Solutions
Chris and Emily Ann Brown
Clarence J. Diedriech
Claryssa Haugrud and Landon Vance
Connie and Edward Rhein
Continuum Technology Group, Inc
Darcy Smith
David and Linda Smith
Debra W. Brady
Gateway Taxi Service/Dave McNutt
Gayle Ortyl
H. Robert Sanders
Jennifer and Rob Ladage
Joseph and Patricia Lintzenich
Kate Cain
Martha and Gary O'Grady
Matt Padberg
Michael Angell and Ellis Anderson
Olivia Marcucci
Ron and Karen Lamberg
Steve and Leslie Goldberg
Steven and Elizabeth Nichols
Susan and Roy Hendin
Tammy and Andrew Schmaeng
Tony and Becky Henle
Vicky and Ron Edwards